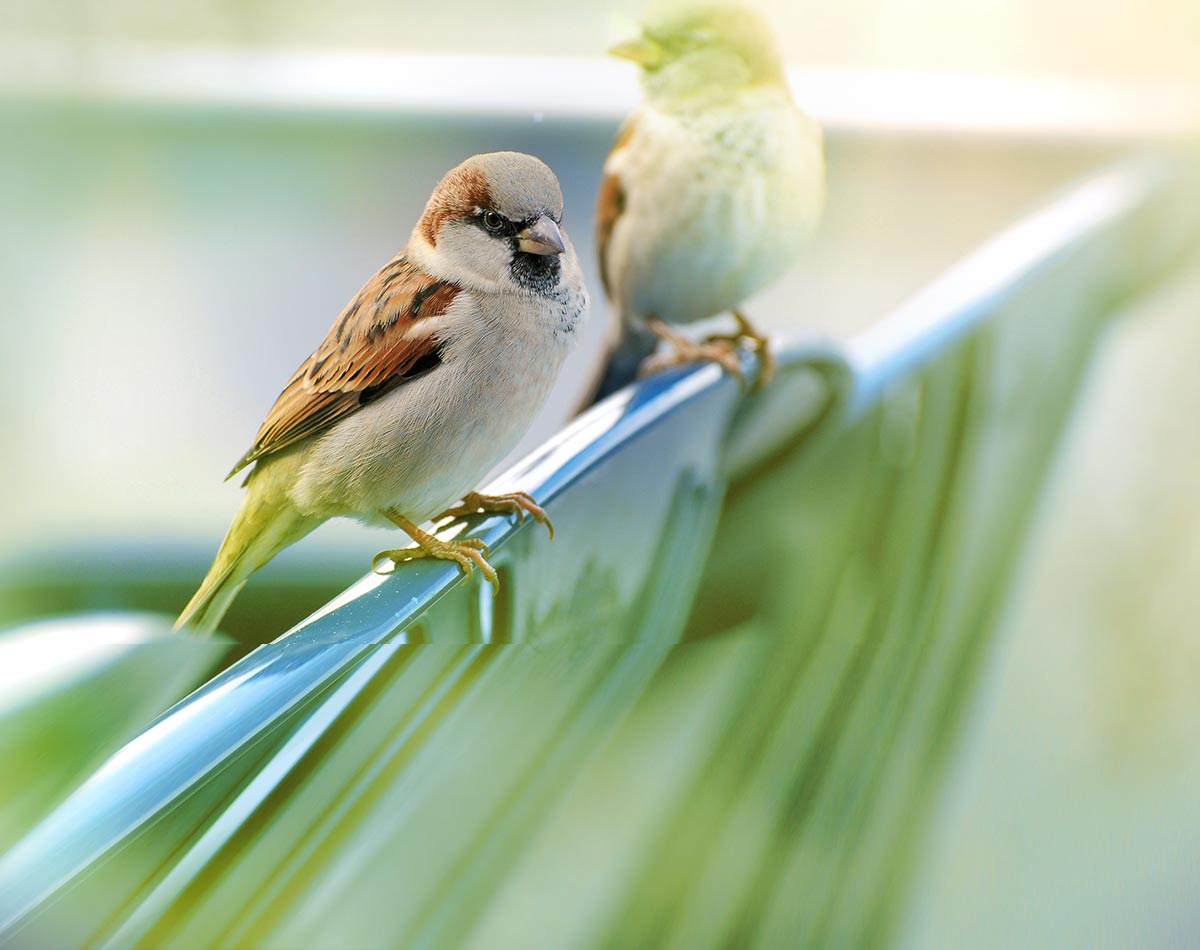 A selection of the customer reviews we received in the last years:
(Machine translation with Google Translate)
2022-03-22
Hello Dr.Kolbe team two years ago I attached the birdpen and the birdsticker to my windows and I am happy to tell you that I had no dead bird since that. Many thanks for your help. Many greetings...
2022-03-22
At the windows where their birdstickers were applied, we have not received a message that a bird strike happened or a bird came to death. We are happy to have your product because it does not affect our employees in their work and we can still do something for bird and species protection. Thanks
2022-03-23
Thank you Kolbe. I am now very satisfied with your product after more than two years and recommend it. I have probably only applied 1-2 birdstickers per window, but since that is the case, I haven't had a dead bird. Just cleaned the windows and therefore had to write this to them. Thanks
2022-03-29
It is nice that we can tell you today that we have been that we have the birdstickers on the windows no longer had a bird that flew against one of the windows.
2022-04-05
We would like to tell you briefly how we applied your birdsticker, first we have stocked the endangered glass surfaces as recommended by them and since it worked so well and we had no longer complained about a dead bird, the windows that had not previously been endangered were re -established to prevent any bird strike immediately. A great product is not seen by us, but of the birds and it is very easy to assemble. Thumbs up!!
2022-04-18
Dear Sir or Madam, due to the great success with the equipment of the first window with Birdsticker, we now want to equip the 2nd window with it. For this we hereby order: 4 packs of birdsticker (set with 5 stickers)
2022-04-28
Hello Dr. Kolbe GmbH, we need another 5 birdsticker set from your product It is simply world class that the result of what we have achieved and that you don't see the birdsticker. :-)
2022-05-04
Dear Sir or Madam, I would like to order 3 x 5 birdstickers (1 scraper is sufficient). I've been very satisfied with it for about 10 years!
2022-05-06
Dear Sir or Madam, I can tell you that we are very satisfied with the Birdstickers.
2022-01-10
A few years ago, I have already bought several hundred of her bird stickers for a construction project and am impressed by the effectiveness. Now I have installed a glass of balcony with me at home and I want to install the bird stickers there. I need 100 pieces for that.
2021-12-02
These stickers wind really very good. We had 1 dead woodpecker this year. It used to be about 20 birds a year. We have made these stickers last February from our cleaning institute after the disc cleaning and today people from the same institute have removed in the window cleaning. Unfortunately, the cleaning institute did not communicate its people.
2021-11-24
We are very satisfied. So far no further accident!
2021-11-19
It has now become much better after the repair. At the beginning after the Haubau almost daily you can say and now there were no 5 pieces a year. Priority nuclear and that in the spring in the balz. They have 5 meters high glass surfaces and a very light flooded house, so that the bird can accept that he can fly through. Now after 10 years some are milky but that does not bother you. After she has reiterated this year by the possibility of the scaffet no more bird has come to death now.
2021-11-18
Since he made the strokes he had no birdfalls. No more bird flew against the slice.
2021-11-18
We have been the bird stickers and the work great for some time, now we have to retrofit on other windows.
2021-11-04
It depends very on which slice the bird stickers stick and how the local light is located. We have the bird stickers on our large plant disc, which falls a lot of light and there you work quite well. On two other places in the animal park (administration building), which are reflected by the light incident, the Birdsticker unfortunately do not work. Here we have switched to blinds.The dependency on the light incident, but they also describe in the product information.
2021-11-04
As a direct response, various measures were taken, such as depending on different long, pendulating hardwood rods in the upper part of the affected slices and even the glue of the slices with `birdstickers' on the side of the influence direction acc. Their manufacturer's instructions. According to these measures, no birds of birds or deadfunters were reported by birds.
2021-11-03
Had the birds stuck from the wrong side not approach. We have sent 5 Birdsticker to supplement. Today, feedback from the customer came, now really nothing happened. We are very satisfied and will recommend you to continue.
2021-11-02
The bird stickers are fantastic !!! The birdpen, on the other hand, less, because one sees the stripes, albeit differently. Luckily, I tried the Birdsticker then.
2021-10-28
On demand such as the customer reviews are: yes we have only positive news from the customers, although this does not have any sensors on our site.
2021-10-05
With regard to your telephone demand from yesterday: with us everything is fine. We have attached everything stickers and are very satisfied.
2021-10-03
Yes, we have now protected about 1000 square meters of glass and so far they are very satisfied with the result. There was no message more of dead birds or that a bird flew against a window. They are now also addressed by employees on this product. You will give up a collective order
2021-09-30
Answer Birdsticker Birdschlag: I like to inform you that since the installation of your "bird stickers" on the building no bird strike has taken place.
2021-09-29
After his discretion, they have no birds anymore, or no dead bird found and no more impressions on the windows and it looks great. He has already recommended it several times to interested parties.
2021-09-28
We do not have a dead bird to complain now, since the assembly of 2012. Your husband has already glued the Bridsticker closely. We are very satisfied with the result.
2021-09-27
After equipping the windows we did not have a dead bird to complain about that was flown against a window.
2021-09-27
We are very satisfied with the birdpen and have already recommended this several times.
2021-09-23
Customer had reported on 2021.09.23 and reordered to protect more surfaces. There is no bird against the windows.
2021-09-17
He has nothing after attaching the bird stickers is neither positive nor negative. If it had not been good, he would have certainly heard something.
2021-09-17
They build winter gardens and deliver them if the customer wishes this. She has not received any bad feedback so far. A friend of her has a large panoramic window and since she has the bird stickers on the window was not a dead bird to complain.
2021-09-17
We need new bird stickers, as we get a new window. The previous bird stickers have done good services and it has long since declined. If it happens then between the bird stickers. We pointed out that these areas should be rejected to protect the last ones.
2021-09-16
Thanks for asking. I am very satisfied with the result, although I have raised her something large-scale as recommended. We have advised to reduce the distances with further bird strike to bring it to zero bird strike.
2021-09-16
Super that you call We are very satisfied and wanted to reorder for other windows.
2021-09-02
I am very satisfied with the product for 6 to 7 years had no birds anymore and the stickers are great despite the strong cold and the extreme heat in the summer is still good. 4 Birdsticker set ordered for new glass surfaces.
2021-07-20
Since we have made very good experiences with our pasted front, we would like to reorder for a few page windows stickers. The order can be found in the appendix.
2021-07-15
We still have no birdfall anymore, nothing has changed everything still well.
2021-07-15
We have the Birdsticker now attached to most windows in our house, as they have proven themselves very much. As soon as a bird flew to a (unknown) window, we have also equipped this with bird stickers and since then no more incidents. We are very happy and let us enjoy the bird world outside in the garden with a clear conscience! The stickers are also hard to see for us and completely easy to clean food. Since you have brought a great product to the market ;-)!
2021-07-15
We have used your product on our approx. 6 m long lifting sliding door. It does not look very nice, but no bird has come to death. That's important to us.
2021-07-14
Having own attempts made on a bayer, there was no bird scarf after attaching the bird stickers and that's nice. For the reason we have it in the program and recommend it. Previous customers confirm this again and again.
2021-07-13
Managing Director has not had a dead bird after attaching the Birdsticker and no reports of their guests or staff who was found a dead bird found.
2021-07-12
We are very satisfied with the bird stickers and the birdpen, since we had no losses on the glass slices protected by us. The bird stickers are a bit expensive and the disadvantage of the birdpen is that this must be freshly applied after each cleaning.
2021-06-16
Since the Birdsticker is now on, no dead bird was found more, seems to work.
2021-06-14
The janitor has since the glass surfaces with foil (bird stickers) has not been birds anymore and no requirement that a dead bird is located there. Great thing.
2021-06-11
I am very satisfied and above all the birds are too. I could "defuse" the glass fronts, without having to stick the black birds. Thank you very much for this great solution.
2021-06-08
We are satisfied with the result with all the measures that have been undertaken and with what it is today. Last year, the NABU has inquired with us and we showed you our records and they were amazed that it is so little. With all these glazings with us on the site. The buildings themselves and 5 glass transitions from buildings to buildings. For upcoming and future measures, the Birdsticker will continue to prioritize us.
2021-06-07
The customer has recalled and we have discussed everything. I know the product already we have already used this twice with great success, no birdfalls more since. For this reason, for this object your bird stickers.
2021-06-02
We have had very good experiences 2 slices with 2.50 x 2.00, here we had at least one bird against the disc before the assembly with Birdsticker 14 days, now in the year 1-2 birds. From our point of view by 90% improvement, no comparison to before. A great product.
2021-06-02
Our experience has been in the hospital since which we have attached to the bird stickers so that we now want to protect more surfaces with bird stickers and therefore give up this order.
2021-05-28
Demand again. He has now bought and applied 2 packs, is great because you do not see them and so far no bird has flown against the slice. We have made aware that if now a bird flies between the bird stickers, since large-scale was glued (3 on the slice) may be compressed again. We take the customer from the recovery.
2021-05-19
Yes, is a great thing, we have raised the bird stickers and had no bird strike, of course, this would be more meaningful if they would have known as much bird rush before assembly with bird stickers. It was equally after building.
2021-05-18
She has not had a single bird of birds this year, otherwise weekly. For the reason we have moved the re-existing next year. Should there be something this year she reports with us.
2021-05-18
I am very satisfied There are no problems anymore, since August 2011, the Birdsticker is now on it. I will continue watching it and if I should find something I will retrofit accordingly, as in 2018. If necessary, I'll contact you.
2021-05-18
Since the assembly in September 2018 with the Birdsticker has heard nothing more and has not been anything, with birdfall. She will consult with the caretaker again.
2021-05-18
The bird stickers are good have fulfilled their purpose. Before we had 1-2 dead birds a month.
2021-05-11
I am very satisfied after we have their birdstickers now for almost 11 years of the slices, we can say that we did not complain bird strike at the equipped slices, now through the memory we will be on the still but vulnerable slices still bird stickers Order and retrofit this. Thanks very much
2021-05-10
Now since 2013, we have stocked the Birdsticker with us on the glass surfaces and other glass surfaces in 2015 and are very satisfied that we do not have dead birds to complain more and can only recommend it to anyone.
2021-05-07
I have the adhesive films with bird silhouettes of "Dr. Kolbe" on my big glass panes and since then may have been a bird in the year, which was bounced there. In a competent consultation, the employees of the company have helped me on the phone enormously and allow friendly advice. Kolbe itself is a bird lover that has made its invention to a product that effectively helps birds - and thus also the people and bird lovers.
I would be glad if you mention this company, because the silhouettes are transparent and Durable. And if you, like me, has already chosen his slices, in a retroaktion, a meaningful thing ... and facilitates the conscience ... now for more than 6 years.
2021-05-06
Is very satisfied, has not been birds since the attachment (March 2019). She has recommended it to the neighbor and specified patterns, this will now protect its vulnerable disc now.
2021-05-04
I was already a customer with you and I am very satisfied. For a new window area requires a 10 sticker and a scraper, please.
2021-05-04
We had a sample label of 50 pieces last year in Septemper last year and where they have been installed, there was a great birdfall anymore, it seems to work and therefore the customer wants to protect more with the bird stickers now.
2021-05-04
In the last 10 years around the conservatory he had a single Vogleschlag and before it was monthly. He can only recommend it.
2021-04-27
You already have the product and are very satisfied and now wanted to protect pair slices in the rear area. You have calculated the quantities corresponding to 2-3 bird stickers per glass surface. We said that we enclose the product information as we recommend more.
2021-04-20
Has birdsticker glued. You have a lot less bird shock than before, however, when the young birds hatch or the Sperber hunt you are careless and can ever fly against the slice. He will look that he reduces the Zwicshenausen. Previously 25 cm apart. The observations to a Sperber was that he tried the bird silhouette accessing what went wrong, he is with his grippers against the slice and then on the ground. He looked and then flown away. Conclusion The gripping bird (Sperber) can see our bird silhouettes. We look in the new year whether over this year another order KA
2021-04-20
She is very satisfied with the pattern bonding, it helps to make it completely offset them more glue and that is not possible at the present time.
2021-04-20
Is satisfied with the result although still one or more is flown. In conversation, the 3 bird stickers per glass surface has only been applied. We have advised to minimize the too big distances. So far, the stickers are about 8 years on the glass surfaces.
2021-04-20
The bird stickers are still on us everything is good, since that was no visible bird strike anymore. Montage was in 2011 spring about 10 years ago.
2021-04-19
If no birds has had no bird strike since the attachment of the birdpen and the neighbors did not contact her, so they will have not seen birds anymore. They would otherwise certainly reported.
2021-04-19
Since the bird stickers are a significant improvement, in the following years perhaps 2 - 3 birds overall in contrast to earlier.
2021-04-19
Call today, it has definitely become better, before that it was almost in the minute clock. Today, one or the other still flies against the glass, but they have glued very large. We have advised to compact the birdstickers. She has ordered 5 bird stickers to complement and wanted to take a birdpen.
2021-04-16
Customer spoken is very satisfied with the bird stickers since these were glued they had no birds anymore and this for almost 10 years.
2021-04-15
We have very good experiences with the Birdsticker after the assembly we had no visible birdfall anymore. After a few years, the garden was designed and Tuja was planted in this area and now cover the endangered area complete.
2021-04-14
Is very satisfied with the Birdsrticker for about 10 years. In the years, probably a bird has flown between the bird stickers, otherwise nothing was and they live near a park and there are many birds. It's nice to watch.
2021-04-13
The customer is very satisfied, since the application no bird strike more and now for about 9 years now.
2021-04-11
Thank you for your surprising e-mail for me! In fact, the bird stickers on my terrace glazing are now active ten years and still effective. In the friend and acquaintance group I had already recommended you several times in the past. The effect still adheres to: Before equipping the glass surfaces with the bird stickers, we had about 2 - 3 vogel victims per week (at least, because of course we know, of course, only found dead, not from those who first flown away and maybe later to succeed in their injuries). With the Birdstickern it is not a handful of more - in the last 10 years!
2021-04-07
Customized and asked for the bird stickers, now after about 9 years. She is very satisfied with the bird stickers and had not had birds since the attachment. The bird stickers that have become blind through the window cleaning will not renew them anymore, as they do not know how long they are still in the house
2021-04-07
The birds do not fly to the slices anymore. Between the Birdsticker it still comes to birdfall 1 - 2 times a year. We have recommended urgent retrofitting. The Birdsticker has been on the windows since 2011. She has recommended the days of her friend and will tell her the latest information.
2021-03-24
He is very satisfied with the bird stickers and this has been around for 9 years and since no bird struggle had until 14 days ago, it was a green-neck, which is beside the bird stickers against the glass area, where it has to be re-admitted there. The green interlocutor got upset after 5 minutes and has moved away again.
2021-03-23
It is very satisfied Last year was nothing and this year a blackbird couple in love flag between the Birdsticker. He had glued a bit large and now condenses it with the bird stickers (bird protection film).
2021-03-23
Upon entry into your apartment, a descendant was flown every hour, after the Birdsticker was hardly a bit seen on the years. It also recommends everyone recommended at the NABU this for everyone as it is a member.
2021-03-23
Was very pleased and had to laugh because she had thought of the last days. She was a bit sparingly with the bonding, where the bird stickers sticking was nothing more and now she would like to capture more windows,
2021-03-18
He has called back and said that the technical director was very enthusiastic it was in the coming half year only a dead bird to complain before every other day. Now after almost two years you have nothing more heard of birdfall.
2021-03-17
Has the order was made with an authority and bill was paid and then nothing belongs to it, so he accepts that it fulfills his purpose, otherwise he certainly heard something.
2021-03-08
He has already been birdsticker for 8 years and is very satisfied with it, now he has problems again on other glass surfaces and protects them with bird stickers
2021-03-08
After consultation today with Mr. Gadke he heard nothing more about birds after the assembly, so he assumes that it looks there, otherwise that would have wandered around. At the moment you have closed and the entrance area on which these have been mounted have now been delivered, nothing has happened certainly. We are welcome to ask again in 1 - 2 years
2021-02-16
Have only positive experiences with the Birdsticker. Only a little further glued and then reordered and compacted. Now it's really great. A bird has now been found, but no approach to the slice seen. If something should be something again, she will twice again, but so far so good
2021-02-16
Woman spoke and said yes the experiences are still very good compared to no comparison anymore, now a max. 2 birds a year and probably depending on the approach angle and visibility. It's recommended everyone.
2021-02-16
He is still very satisfied with the result. He can only recommend it
2021-02-09
Since 2013-09-10 She is super satisfied with the product and no bird strike had more.
2020-12-14
Thanks to this very aesthetic, discrete solution of two placed squares, no bird has flew more in the windows for a good 2 years! Excellent!
2020-10-29
He was very satisfied with the Bridsticker no bird strike. Now the windows have to be exchanged all after just under 3 years and he then needs the bird stickers to avoid birds.
2020-10-05
It has become much better, so far only a dead bird has been found in contrast to earlier. She did not find him himself to say if it was actually flown against the disk. We are welcome to ask again in a year.
2020-09-21
You have only made good experiences. Since the Birdsticker is not birds anymore.
2020-09-15
1-2 times a week before and now 1-2 times a year. An essential difference and whether the 1-2 could be prevented is the question. Possibly empty empty areas when there would be a print there
2020-09-15
Called is very satisfied 2 per slice (window floor low and over the whole room length). A total of 4 glued and never had a bird struggle again.
2020-09-10
Experiences are only positive no single birds anymore. A girlfriend has already ordered the Birdsticker and has made the same experiences.
2020-09-07
In the last half year 1 or 2 bird strokes against otherwise 5-6 bird slopes per month. The bird protection film bird stickers is excellent.
2020-08-03
First of all, thanks for your product birdpen! I think it's great!
2020-07-30
However, it has become less with birdfall. However, you can not say anything exactly because you have tried several things to curb this and the remaining bird stickers will be applied in the next 2-3 days.
2020-07-28
Since the bird stickers were applied, they had no birds anymore. Now you have newer and larger windows in the living room, which would have to be populated again, but have not yet come. She also has budgies in flying that do not take it as true but the glass surfaces are reset under a balcony (too little UV).
2020-07-27
Now asked for 1 1/4 years and the son says it was all good, because we did not hear anything from the customer. Therefore, he assumes that there was no birdfall anymore.
2020-07-27
Even private use - 7-8 year already, are still good, because you have recently cleaned the windows. He is convinced and you do not see it if you do not know.
2020-07-27
We are very satisfied with that - it still comes from time to time that a bird flies against the disk (max 2 x a year), but these are either very young birds or birds in the spring stag :-) and this survive 95%. So it fit quite well :-) Thank you for your feedback. This is nice to hear that the bird strike with you has decreased by our product. If now a bird strike between 2 bird stickers happens, could be retrofitted at this point. This is just considered consideration.
2020-07-24
After the application was no bird strike more and it is also easy to assemble and the bird stickers are very good even in the window cleaning simply class.
2020-07-24
Now mounted about 2 1/2 years, since no birdfalls more and on the glass surfaces about 4 - 6 bird stickers were applied. The bird stickers are not more recoverable after cleaning if something dirt and dust are on the windows and settles on the bird stickers, these are more visible or influencing with the appropriate view. He wants to send pictures next week and give the more accurate quantity per window. If something is needed again, you definitely get to us.
2020-07-22
Biren helps, are completely satisfied, no more birds. Since over a year.
2020-07-22
He called and asked for the bird stickers. The functioning works flawlessly and he still needs which, as if the patio door is open always birds. The birds then want to go through and fly against the slice from the inside and there he wants to glue.
2020-07-09
The efficiency of the stickers is clearly obvious: Without stickers a bird bounced against the window every day, with your product does not occur at most in two week! For further questions we learned why, only 3-5 bird stickers per slice were applied, so we have recommended a re-assembly of the vulnerable windows and the product instruction sent again. But already a great success.
2020-07-03
Since we've put up the bird stickers, no deat bird was seen more. Unfortunately, this was very often the case. We are very satisfied with the result.
2020-06-26
No birds more since this time (2018-01-05) Project Several generations with 60 apartments and in the community room are very large windows to these were mounted the bird stickers and since that has not been birdfall. EK
2020-06-04
We can not say certainly that they work, but since we have their stickers we have no dead birds. And my wife is looking forward to not seeing the stickers!
2020-05-28
Has only a bird struggle on the roof window. On all other windows no bird strike was after the assembly of the bird stickers. Nice result.
2020-05-26
Technical ladder spoken. This has now recorded a dead bird even in the last 2 years, but whether it flown against the disc or came by other circumstances could not be determined or determined. No single employee has been approaching him since the assembly, which birds happened. It has definitely declined by 95%, if not anymore.
2020-05-25
No negative feedback since the bird stickers have been attached is no birds on these glass surfaces. If something is needed, he reports to us.
2020-05-22
We have no accident with anxiety birds on our lifting sliding door. My wife has washed off her product 4 weeks ago when brushing with some effort and newly applied in he hopes that the birds continue to detect the stripes and launch no flight attempts.
2020-05-20
She has always worked with Birdpen and Birdsticker and is a supporter of the bird stickers as she knows nothing better. It is recommended to everyone. The bird protection film - Birdsticker against birds.
2020-05-19
Thanks for asking. The stickers are all applied and do very good services. We had very little birds all last summer. I appreciate less than 10% compared to before.
2020-05-18
She has heard nothing more, they have had good experiences so far, for the reason several areas have already been populated.
2020-05-18
He is convinced and has had no birdfall since then and the view is given as he would like that. He finds the product well and it fulfills its entire demands. We are welcome to ask again
2020-05-18
He is very satisfied with the bird stickers. He has had no birdfalls more and had not seen anything. The view is still given, from its high terrace. He gets a new patio door for 6 meters long this year and he needs bird stickers again and will come to us.
2020-05-18
He: very good experiences. Are fully excited. Before, they had at least 10 birds of birds in the year and you were only 1 birdfall. If you need a birdpen again contact us.
2020-05-18
Good morning, her stickers are great. There were no accidents in time. We would like to order more stickers. Can we make that by mail? Regards
2020-05-14
You have asked last week if we are satisfied with the bird stickers. Thanks, well, well. You actually do not see them. The problem is not 100% solved, but the impacts have become significantly less.
2020-05-14
Has not heard after attaching the bird stickers. No birds anymore. Should something be made in the near future, she will contact us.
2020-05-13
Since the no bird strike, although only 2 bird stickers per glass surface have been glued.
2020-05-11
Since then, nothing more, no more birds, he lived the bird stickers still in the surfaces between the visible stickers.
2020-05-11
They made a few smaller areas and have only positive feedback.
2020-04-30
She has recalled and is very satisfied with the result. Have become much better. I did not get out more. You can call again in 1-2 years, if I still live there she said that we hope to hope.
2020-04-30
She has thought at the beginning that it does not work, but now you have nothing more birds and feeding teas and other birds and have not changed the food places. We are welcome to ask in 1-2 years.
2020-03-10
Very satisfied no death anymore. One is again flew against a disc, but it has not been protected from the reason I now order again 15 bird stickers.
2020-02-20
I have attached the Bird Stickers on 20.08.2016 to three glazed windows in the top top floor of a Tibetan monastery. The monastery is located at 1700 m in the immediate vicinity of the Himalaya massive. The stickers stop the birds, are as good as invisible and, despite wind and weather, still top. Better is not better.
2019-11-26
I am very satisfied with the result achieved so far when it was 20 dead birds a year before and now only 2 birds over the whole year. At the next bird strike, I send pictures so that we can discuss further action. In addition, I can not say whether the two birds were hunted or carelessly goods, etc ..... result definitely satisfactory.
2019-11-18
Since the University of Birdsticker are attached, he has not heard nothing more, so he assumes that the problem with bird strike takes place (2018 100sqm 1500 pcs).
2019-11-18
He did not have any birds of birds have been taught if something had been, he would have gotten this for sure. He will inquire in this regard and I will ask for four weeks.
2019-11-15
He has already thought of us more often and always wanted to answer but too much business. He is satisfied with the result of no dead birds anymore and they have a lot of air traffic.
2019-11-07
Is satisfied with the developed solution makes the curtain from the inside and the reflection is taken. Otherwise, our solution works on the other areas. View of the pond is preserved, is important.
2019-10-30
I have the bird stickers themselves, did not feel so simple, but the air and water bubbles have turned out and now everything is fine and there was only a bird strike, with very low sun.
2019-10-28
Cleaning the Birdsticker Super product. But had previously been unsightly to the birdpen with time and therefore I decided for the bird stickers. They are no birdfall.
2019-10-28
I had bought the Birdsticker for the gazebo of my parents, before whose windows some dead birds lay, which was very sad for my father as a bird friend. I called him degree, he is very satisfied. So thanks for the good solution.
2019-10-25
Reduced from 12-10 to 2 pieces. The company owner is very satisfied with the result, and that it is not visible and not disturbing, also no influence on the employee.
2019-10-25
Has not been a single bird of birds since that. Is very satisfied and you do not see it.
2019-10-24
Woman ... said it has become much better. Everything does not stop it, but it completely meets its purpose and is very satisfied with the result. She had started the bird stickers first too high and later positioned differently and now it is better again.
2019-10-24
Very supplies a great product and he will remove the remaining birds strips in the spring and retrofit these surfaces with bird stickers as it is the more sustainable solution for the user.
2019-10-16
Since the bird stickers on the Glaspavillion no bird strike saw or noticed. Already recommended the neighbor and the company.
2019-10-15
We have been tranquering with birds since the first action, it was sufficiently planned, thank you. Should there be something again at a later date, we come to her.
2019-10-10
Since the bird stickers have been attached, it has so far only 2 birds have been 14 days before up to 2 birds. Check again in the spring and glue or correct at high intervals with other bird stickers.
2019-09-16
They had that they have the birdpen just a small bird of the bird was not bounced. Has continued after a short time.
2019-09-09
Today with the home technician spoken, it has become much better after the assembly. He returns again.
2019-08-29
However, since the less to no bird raw has not been known if it can be due to the general conditions, it continues to observe.
2019-08-19
Dear Mr. ...... ..., would like to give you feedback from the customer and communicate that they had almost no birds due to the Birdsticker. Thus, you would like to have the bird stickers also on the slices of the small garage and the kitchen.
2019-08-14
Dear Mr. ......, we have received only positive experiences about your bird stickers from our customers: less birds collide with glass surfaces! Please make us an offer for 300 pcs. Birdsticker
2019-08-02
Has super kisked much less bird strike and every 10 cm a bird sticker. I'm not staying in the house now.
2019-08-01
Since she has raised the birdpen, there was no birdfall anymore, very satisfied.
2019-08-01
After switching the birdhouse and prefer of white curtains, as the attachment of the bird stickers to other windows, bird strike has gone back sharply. Before 1-2 birds a day, now 1 bird in four months, but on the non-equipped slices. We will retrofit.
2019-07-12
Colleague has tested a house and the bird stickers there at the edge of the forest. His daughter too and both are satisfied with the result.
2019-07-08
Since then, we have no birds anymore and now equip more glass surfaces.
2019-05-27
Great since the bird stickers are applied, no bird flew more against the slice.
2019-05-27
Since the application we had no more dead bird to complain, no more birds.
2019-05-27
So far, 2 construction sites equipped with bird stickers, then never receive a feedback that was still birds before.
2019-05-23
Mr. ... since the glass surfaces have been coated by the meeting and seminar room, no dull birds more and the great is you do not see the bird stickers.
2019-05-13
Woman ... has heard nothing more and asked. After attaching the bird stickers no bird strike anymore. It may be asked again in a year.
2019-05-09
Since the application of the bird stickers, no bird was flown against the disk.
2019-05-09
After consultation with the caretaker no more visible birds.
2019-04-24
No negative feedback, according to the contact person, since the bird stickers were attached, no birds is more on these glass surfaces. If something is needed, we will contact you.
2019-04-11
I am now back in an office, just happened to talk to the customer, where I used her birsticker in Berlin. Since the application there was no birds anymore.
2019-04-04
No bird strike (visible) More since the bird stickers were applied. Just great product.
2019-04-02
According to the employee, no birds occurred on the coated windows. Since 2016 after attaching the bird stickers.
2019-03-20
Hello, dear birdguards! Thank you again for the purchase advice, it works really well. The birds turn off early. Greetings from Hagen
2019-02-27
Since the bird stickers there are no birdfalls 1 1/2 years more. Now another building comes and here we will come to you in the given time because of Birdsticker.
2019-01-29
That's a great product and we recommend this time.
2018-12-05
We have been using Bedben and Birdsticker for years and are very satisfied because no bird comes to death.
2018-11-27
This year no one birdhood more on the windows. Thumbs up.
2018-11-20
Since the he has attached the bird stickers nothing more happened, great thing.
2018-11-15
No more birds, nothing has heard more and therefore problem solved. There were no more things or other things attached.
2018-10-18
Is excited about the bird stickers and all his acquaintances who also bought the bird stickers. He had no birdfalls since then.
2018-10-12
Called caretaker, as is the experience now, we asked: Yes, 100% are not that of the whole birds around 80-90%. Before, there were between 2 - 5 birds a day and now was over the whole season 6 months as a total of 8 - 10 birds.
2018-10-04
We have already protected glass slices at a transition with bird stickers with a smaller number as recommended by them and we have no birdfall anymore. Now we have another object which should be protected, therefore the quotation request.
2018-09-26
We will suggest these stickers with customers, with larger glass surfaces that is important. We have a complete wall of glass panes in our private house and unfortunately had a lot of birds last year. I was very sorry for these beautiful birds, we live in the countryside with a garden pond directly in front of the windows. This year I have glued the slices with the bird stickers and had only at a badly pasted bird ripe, I will still stick them. Until then, we wish you all the best and much success with the great bird stickers, they are a real alternative.
2018-08-28
Very satisfied No birds anymore If you come home since you stocked the windows. In addition, wind play with laces attached. We can ask in appropriate intervals as the experiences are 1 year or shorter.
2018-07-06
Great idea The pen, helps great
2018-07-04
Before it was 10 pieces a year and now nothing more. Great product.
2018-05-30
Good morning, we are very excited. Works well.
2018-05-17
Second purchase, is convinced of the product. Birdpen and Birdsticker
2018-04-26
Mr. ..... is enthusiastic and he made about 8 pieces on the square meter at his customer and no more birds. It enthuses him himself, as he lives in the bird sanctuary and has an old mill, there it has made partly daily Bumm Bumm Bumm Bumm, as he described. Since he has raised the bird stickers, this is over and he has also seen no bird lying down.
2018-04-24
Charming Mr. ...: no visible bird leaning more since 2017 the bird stickers have been installed, and the beautiful you can hardly see it as a person.
2018-04-16
The customer has already experiences with Birdsticker and since these were very successful he wants to protect more vulnerable windows, unless bird ripe should occur. No bird strike on the equipped windows.
2018-04-16
Since the bird stickers are attached, no birds anymore
2018-04-06
A second assembly zoo with birdsticker® against birds.
2018-03-22
Contact person has recalled and said that they have bought a few thousand and noticed that not so dense and they have achieved very good results.
2017-09-20
Caretaker and biological employees have said it has brought something. Not scientifically pure their opinion. No birds seen more. Since November 2013 Birdsticker on the slices.
2017-06-12
Great it works and you do not see it and no bird flies against the window.
2016-05-10
Customer has equipped a public cottage and is positively surprised that it works so well. He has it even privately and on the protected window does not happen anymore. No bird flies against the slice.
2011-04-12
We are impressed: For 10 days, there are no more bird victims, and though the animals are especially "crazy" due to the Balz period! For test we had the unshaded slices opened and kept the pasted closed. As a test front we had chosen the one where the most victims were to complain before. That's why I want to make and order from your offer of the second sticker set - 2 large packs á 60 pieces and order.